DISCOVERING ITALY AND ITS CULTURAL HERITAGE WITH MOVIBELL, THE PERSONAL RADAR FOR MOBILE DEVICES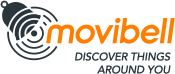 DISCOVERING ITALY AND ITS CULTURAL HERITAGE
WITH MOVIBELL, THE PERSONAL RADAR FOR MOBILE DEVICES
About 6.500 Italian monuments, museums, cultural locations
and points of interest now available on Movibell mobile app
 Milano, Italy, November 24th 2016 – Visiting Italy and enjoying plenty of artistic and cultural beauties which are disseminated along the 'Belpaese': this is now easier with Movibell, the mobile app which allows to discover interesting places or objects while moving around, simply using the smartphone or tablet PC as a true personal Radar. Designed for tourists coming to Italy for the first time, or residents willing to learn more about their own city, Movibell helps people find and explore about 6.500 monuments, palaces, archeological sites, museums, exhibitions, theatres and libraries across Italy.
From Valley of the Temples (Valle dei Templi) in Agrigento, Sicily, to Fénis Castle in Valle d'Aosta, through the thousands of historical and artistic locations in towns and villages, Movibell launches a new way of exploring territories, providing monuments with the capability to call out for people.
After installing Movibell on mobile devices, users just need to walk around the city. When coming within 200 meters from a palace, museum or theatre, it's the point of interest itself which notifies its own presence and, if the user decides to follow its geo-located Channel, it will share updates and news, events and other interactive contents.
"After mapping the points of interest of some pilot Italian cities, we successfully extended Movibell to the entire country, making our app a unique tool to discover Italy and its immense cultural heritage", said Alberto Muritano, founder and CEO at Movibell. "Movibell is an extremely versatile mobile platform, fit for local administrations and private operators who want to innovate tourism marketing. It is also perfect for shops, restaurants, hotels and any other retail business, as it grants the opportunity to engage people moving close to a store, inviting them for a product trial, a coupon or a flash promotion".
Movibell app is available for iOS and Android devices, both in English and Italian, and can be downloaded for free from Apple Store and Google Play. Users can access the app with any mobile device connected to the Internet via cellular or Wi-Fi network. GPS is also required. A chatbot is available to invite users to experience Movibell via Facebook Messenger, playing with their knowledge of some popular Italian monuments.
NOTE. Movibell leverages data from DBUnico2.0, the database from the Ministry of Cultural Heritage and Activities and Tourism (Italian: Ministero dei Beni e delle Attività Culturali e del Turismo – MiBACT), according to Creative Commons license.
About Movibell
Movibell is the Italian start-up company developing highly innovative mobile applications to offer surprising experiences to people moving at home, around the city or elsewhere, and interacting with connected objects and the outside world. The Company is growing its business in four key technological domains: mobile and digital marketing, wearable technologies, smart sensors, the Internet of Everything.
Movibell takes its steps from the solid competences of Posytron, the Italian digital factory with about 20 years of experience in ICT solutions and services for businesses and governments. The company is headquartered in Milan.
For additional information, please visit www.movibell.com
Facebook: https://www.facebook.com/pages/Movibell-APP/667237940054285?fref=ts
Twitter: @movibell_en
LinkedIn: https://it.linkedin.com/company/movibell
E-mail: [email protected]
Media contact:
Silvia Vergani – ph. +39 349 7668102
E-mail: [email protected]; [email protected]